Alpaca
I havn't done much spinning this year. But with all this nice weather I got inspired to move out in the garden with my spinningwheel and spin away!
I still have alot of alpacawool from my visit at
Kusipacha alpaca
farm last autumn. So now I'm working on spinning all the wool that I've sorted, combed and carded. I don't know if what I've brought with me will be enough for cardigan but maby for a cute top. I hope so anyway!
In the weekend I finished two balls of two plyed alpacayarn, app. 200 meters and 146 grams. I've really been working on spinning it a bit thicker. But when you concured the method of spinning really thin, it's difficult to spin thick without getting it uneaven.
So it's not the best yarn I've ever spun, but it's oh so soft!
Lovely alpaca!


---
Stinker..
When I was in Amsterdam with my family two weeks ago we visited the floating flowermarket.
There I bought a corm that didn't have to be either planted or even watered to bloom!
For 3.5 euro is was mine, why not I thougt, could be fun.
What they didn't tell me was that it had a next to leathal smell!
This, my friends, is a
Sauromatum venosum
, a plant with flowers that smells like rottning flesh.
Why? To attract flies to kill them with it's lethal odour.. Ops, I mean to get pollinated by them.
Let's just say its no longer standing in my kitchenwindow..
Sauromatum venosum



Quite nice in all it's wickedness..


---
Evening tea
This is how I prefer to spend my summerevenings!
I big cup of tea, this evening
Söder om Ven
, birthdaygift from Anna-Carin, and a bowl of strawberrys!
How do you spend you summerevening?
---
Purple it is!
My whole life I've lived with the conviction that
Verbascum
comes in two colors - white and yellow.
But THEN one day, there it is! A purple 30 cm high beauty, in PURPLE.
A lifechanging experience, I tell you!
Verbascum atroviolaceum


---
When to knit?
People who don't knit probably consider me crazy when seeing me working on a woolen cardigan when it's 30 degrees outside. I can bet thoughts like "it's summer, woolen cardigans are for winter" run through their minds.
Yes, I admit, sometimes a big woolen  something is not the coolest (as in cold, not cool, knitting is ALWAYS cool) thing you can have hanging over you lap. But if I want to be warm in winter I have to knit now. I don't see a point in beginning to knit when the cold has already struck!
So therefor, I also knit during summer, and that's it!
Honeybee cardigan
---
Summer is..
..a red poppy on a sunny saturday morning


---
Simple is more than enough
I have often the thought that "too much is never enough".
But with a bowl filled with strawberrys, icecold milk and toped with a sprinkle of sugar
Simple is more than enough!



Summer in a bowl



---
Birthdaygirl!
Today I'm 24 on the 24th of May.
And what a day I've had! Working in sunny and warm weather, treating my colleagues to some bananacake, getting a Spätzle grater from Sabine, phonecalls from my parents, a letter from Linda, birthdaycard from grandma, tea and salt liquorice and lots of greatings via the world wide web.
I celebrated with my family during the weekend they were here. I felt like a spoiled little child after opening my presents. I got a camerastand, a Gudrun Sjödén scarf, iPhone gloves, a bath towel, a sockknitting bock and beautiful earrings from my granddad.
Buuut, one of best present arrived this morning with mail. It was a picture from one of my testknitters who had already completed the shawl I designed.
It was one strange but wonderful feeling to see something I designed knitted by someoneelse.
I think
Susanne
did a great job, and I'm very thankful that she wanted to help me testknit the shawl!
Inspire me knitted by Susanne


---
Evening gardening
Today has been even warmer than yesterday, 30 degrees C!
I was planning to water my kitchengarden after work, but it was still so warm that it wouldn't have any affect.
So just before 7 pm I went out instead, in shorts, sleeveless top and boots..
I wasn't very happy about founding that my boss had burried all my newly planted cucumber, I had to dig them out and replant them.
Now my only plan is to drink a huge glas of icecold mintsap and knit on my new cardiganproject!
I'm not much for planning when I arrange my kitchengarden, not when it's only for one year and you don't need to think about crop rotation. I just do, some garlic here, some sallad there. Growing your one vege should be easy!



Beetroot and..



..tatsoi says "thank you and good night!"



---
12-05-21
It's beginning to look like djungle out there and since there's so much flowering in the borders I've directed the focus somewhat downward.
BUT - the oaktrees who should be just as green as all the other trees are almost leafless due to caterpillars who have eaten all the leafes. So the oaktrees look like they are stuck in winter.
---
Lace me up - Pointelle
These fabulous socks are a Cookie A pattern
Pointelle
I've wanted to knit for a looong time. So when I got my hands on the
Spud & Chloe yarn
in the color "Goldfish" I knew that now it was finally goning to happen.
They were a real quickknit, much faster then I could've imagen. I cuff took about one evening of knitting and the pattern is very structured and easy to follow.
I recomend it to a fellow knitters!
I used 1.2 skeins of Spud & Chole Fine, that's about 272 meters(!)
This is
Lace me up
!
---
Pizza time!
Got inspired after havning dinner at an italian restaurant to make for dinner today.
Pizza with fresh spinache from the kitchengarden, springonion, mushroom and blue cheese.
Then straight our of the oven toped with roccet sallad, cherrytomatoes and olives.
Sunday dinner = pizza time!


---
What a weekend!
I've had a superfabulous weekend together with my family!
They left about nine this morning. It's always sad to say good bye, even more sad after havning such a good time together. But I know we'll soon meet agin. Because I know that they, just as I, think that this place is paradise. And who doesn't mind spendning a weekend in paradise every now and then..
Such a nice weekend leaves it trails in the house, so after spending two hours in my kitchengarden I'm gonna spend some time making the house habitable again.
Some photodocumentation of the weekends activities!
Me and grandma at the Nederlandse Openlucht museum
I'm wearing my Inspire me shawl



Floating plant- & buldmarket in Amsterdam



Måns and I at the flowermarket



Grandma and mum havning in Amsterdam



Dad and me in Amsterdam


Hope to have you back soon! <3
---
Waiting...
I really did my best to sleep in today. But when the clock stroke 8am I was wide awake.
I spend sometime in bed reading Anne Frank then I went up to start preparing for this evenings dinner!
I've baked two rubarbpies and some baguettes, peeled all potatoes and cleaned to house.
My parents are brining some things from Sweden, such as smoked salomon and homemade meatballs.
So tonight we are having a big dinner together with my parents, my younger brother, my grandmother, my co-worker Sabine, my boss and his family and his parents. All in all 13 people!

So now, I'm just waiting for their arrival. Feels almost like christmas eve!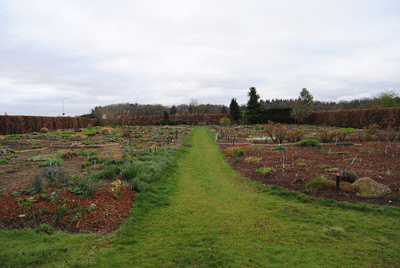 Check out how everything is growing at the biggest motherplant area!
The pictures are from march, april and may.


---
Allium
Sundaymorning the alarm was set on 8 am.
I woke up at 6 am with the morninglight shining through my celingwindow..
I went out and took some pictures of different
Alliums
covered in morningdew
Allium ursinum,
wild garlic
unknown..
unknown
Allium schoenoprasum



Allium schoenoprasum


---
Inspire me - crescent shawl
Finally it's finished
Inspire me
crescent shawl


After doing a testknit for a dear and talented friend and buying two skeins of luxuriant Madeleine Tosh Merino Light I decided to create my own shawlpattern.
This is the result!
---
Early morning backlight
Early, sunny mornings are my favourite time to take pictures of flowers and plant.
The almost magic backlight you get early in the morning, when the sun hits the earth with a low angle and softed light is just amazing.
I took advantage of it only for a short while before work today, but I'm planning on having an early sundaymorning strole in the garden tomorrow. I'm keeping my fingers crossed in hope that the light is as magical!
Geum '
Farmer John Cross'
Saxifraga sanguinea



Aquilegia



Primula japonica '
Appleblossom'
---
Anne Frank
When I was in Amsterdam with Anna-Carin we visited the Anne Frank museum. It was really something!
Situated in the house were they were hiding. It was not so much the museum, or should I say exhibition, that made the experience but the rare feeling of being there, where she once was. Where she spent two years of her life. Trying to figure things out about her self and about the people around her and the situation they were in.
Now some pictures of her sits on my cupbord. Smiling, thinking, and
knitting.
Maby she's all knitters guardian angel..


---
Arisaemas
Is it a snake, a cobra, something outragoues and vulgar?
Noo, it's just
Arisaemas
in full bloom.
For me they are pure joy. They look like no other flower and they really stand out among other pink, fluffy, cute flowers.
Arisaema nepenthoides (
Henny)
Arisaema mayebarai
Arisaema sikokanium bicolorifolium


---
Shades of white
Took a walk around the motherplants in the nursery yesterday morning, here's some results.
Veronica gentaianoides '
Tissington White
'
Veronica gentianoides '
Tissington White'
Veronica gentianoides '
Tissington White'
Centaurea montana '
Purple Heart'
Iberis sempervirens
'Dick Self'
Iberis sempervirens
'Dick Self'
---